Dental Crowns – Mansfield, TX
Custom-Made Restorations for Strong & Beautiful Smiles
Dental damage and decay can be both painful and embarrassing, which is why we offer a number of high-quality restorative treatment options. This includes dental crowns in Mansfield—an amazingly beautiful and strong solution for numerous issues that may occur in your smile. Dr. Jeremy Rudd and Dr. Shanna Howze combine their training and experience to offer our patients the most effective treatments. Keep reading to learn more about dental crowns and what you can expect with this solution!
Why Choose Broad Park Family Dentistry for Dental Crowns?
High-Quality, Lifelike Materials
Experienced Team of Dentists
State-of-the-Art Dental Technology
When is a Dental Crown Necessary?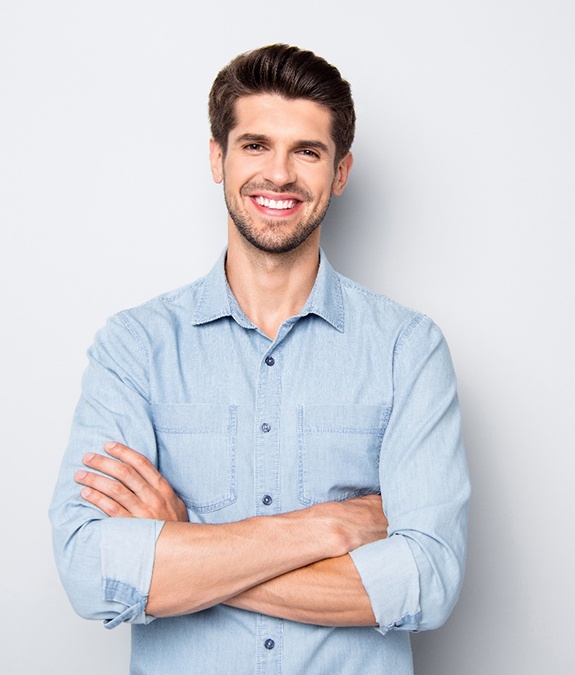 Dental crowns become necessary when you have dental decay or damage that is too severe for a simple filling. Whether it's an injury during sports, or just skipping your regular dental hygiene, dental crowns restore the affected teeth with strength and beauty. Our crowns are made of high-quality dental materials that match the natural look of your smile. They cap the tooth, fixing damaged, decayed, or misshapen enamel in the process. More important than restoring your appearance, dental crowns protect weakened parts of your smile in the future, allowing you to chew and speak with confidence.
How Dental Crowns Work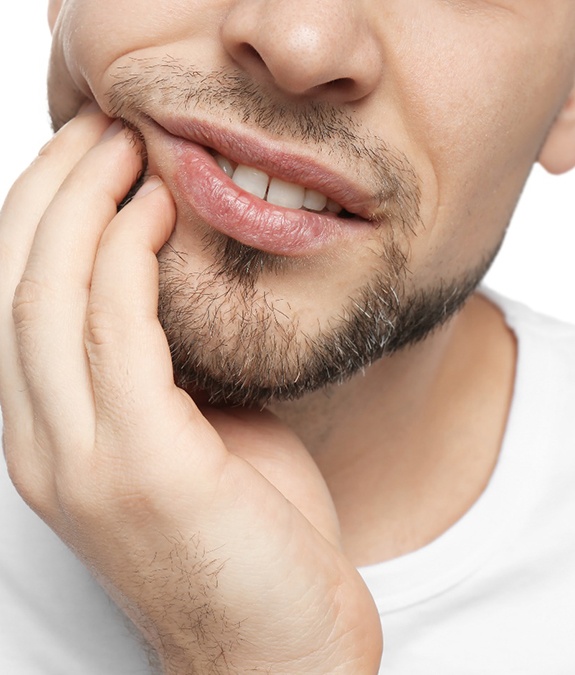 After an initial consultation, where Dr. Rudd or Dr. Howze will examine your smile and determine that crowns are right for you, we'll schedule your first appointment. During this visit, we will prepare the affected area by removing a slight portion of enamel to accommodate your crown. Next, we'll take special images and impressions of your tooth, which are sent to a high-tech dental lab for creation. During about a 2-week waiting period, you'll be given a temporary crown to maintain your smile's appearance and function. Once your crown is made, you'll come back into our office for placement. Before permanently bonding the crown to your tooth, our dentist in Mansfield will ensure that you're satisfied with the shape, shade, and size of your restoration.
The Benefits of Dental Crowns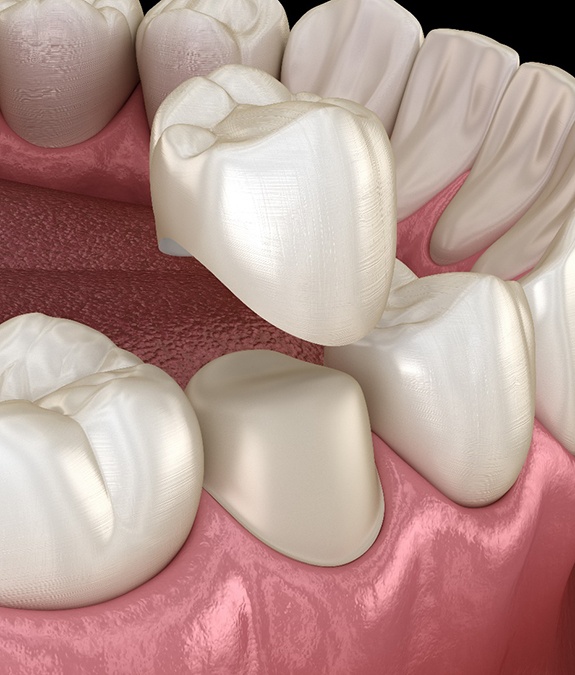 As one of the most popular restorative treatments we have to offer, dental crowns have a wide range of advantages, including:
Function: Dental crowns feel and function like your natural teeth, making it simple to chew and speak.
Appearance: With the ability to match your dental crown to the size, shape, and shade of the rest of your smile, we can provide a restoration that seamlessly blends in with your teeth.
Durability: As long as your dental crown is cared for properly, it will last for up to 15 years. Just be sure to maintain a good oral healthcare routine and visit us for regular checkups.
Versatility: Designed to cover the entire visible portion of your tooth, we use dental crowns to correct a variety of dental issues at once.
Dental Crown FAQs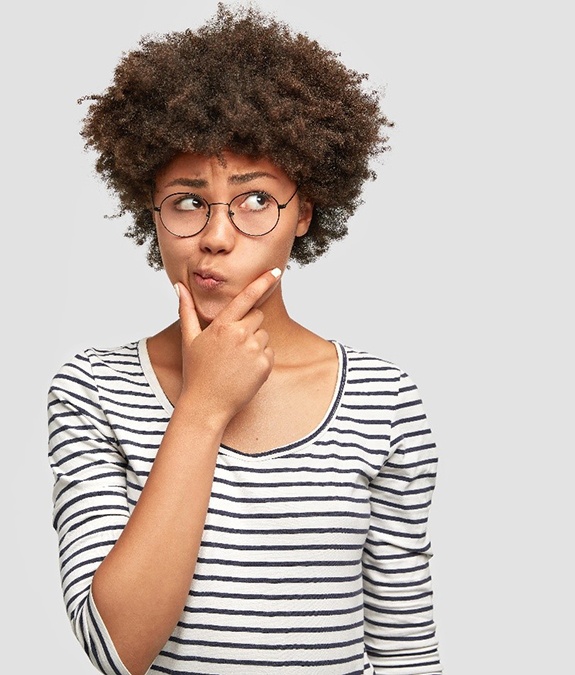 If you're still curious about dental crowns, you're in the right place! Please feel free to contact our friendly front desk directly to discuss any specifics. However, we know you have a busy schedule, or just like to do your own research, which is why we've included the answers to some of the most frequently asked questions about dental crowns below. Read on to get the information you need!
Are Dental Crowns Right for Me?
Dental crowns are perfect for decay or damage that is too severe for fillings. This type of restoration allows us to strengthen weakened teeth while protecting them in the future. You may need a dental crown if you have severe decay, infection, or injury. We may also use a crown to cap your tooth after root canal therapy. The only way to know with certainty whether dental crowns in Mansfield are right for you is to visit our office for a consultation. Dr. Rudd or Dr. Howze will carefully examine the affected area and review your medical history before recommending this treatment option.
How Should I Maintain My Dental Crowns?
One of the benefits of dental crowns is that they're designed to be incredibly durable. Additionally, you can care for them similar to your natural teeth. That said, it's vital that you're careful when it comes to your crown. Be sure to brush, floss, and use mouthwash as you normally would. Visit our office for routine checkups and cleanings to make sure your crown is still healthy. Also, wear a mouthguard during sports or physical activity to protect your restoration. We may also recommend that you wear a nightguard if you're prone to bruxism (nighttime teeth grinding).
Does it Hurt to Get a Dental Crown?
Before we can create your dental crown, we must first prepare the tooth by removing a small portion of enamel. We will always make sure that you're numb and comfortable, plus we offer sedation dentistry for an extra level of relaxation. However, many patients can get dental crowns without any local anesthetic because it's relatively painless. For the placement of the crown, you will experience some pressure, but that is the extent of your discomfort. It's also normal to feel some slight gum irritation around the affected area, but this will go away after a few days.
Is a Dental Crown Lifelike?
At Broad Park Family Dentistry, we blend art and science to create beautiful, long-lasting restorations. We take impressions of your smile, which are used to design your custom-made dental crowns. Our crowns are made to match the exact size, shape, and shade of your natural teeth, making them incredibly lifelike. In fact, many patients forget the exact tooth that was affected because their crowns look so natural. Before permanently placing your restoration, we will always make sure that you're happy with the way it looks and feels for the best results.