Tooth Extractions – Mansfield, TX
When Problem Teeth
Have to Go
Our primary goal here at Broad Park Family Dentistry is to help our patients preserve their natural teeth for as long as possible, but sometimes, removing one is simply the best way to protect the rest of the smile. Thanks to Dr. Rudd's experience and use of sedation, his patients who undergo tooth extractions in Mansfield, TX feel practically nothing while in the chair and usually don't even realize it when their tooth comes out! Then, if needed, he can quickly replace it with a beautiful, custom-made restoration.
Why Choose Broad Park Family Dentistry for Tooth Extractions?
Same-Day Appointments Available for Patients in Pain
Sedation Dentistry Makes Every Procedure Comfortable
Ready to Treat Patients of All Ages
Why Would a Tooth Need to Be Extracted?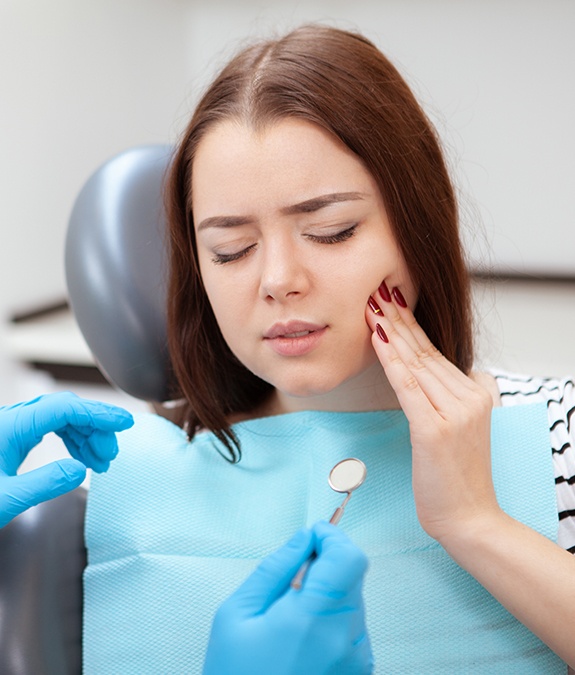 Extensive Decay: A cavity can become so large that it damages an entire tooth and threatens to spread to the surrounding teeth. To stop this, the tooth will be removed.
Dental Trauma: If a tooth is so broken that it cannot be trusted to support a filling or crown, then extraction and replacement is the only possible solution.
Creating Room within the Mouth: A tooth may be removed in order to help a new denture fit more securely, or this could give the teeth the space they need to shift in response to orthodontic treatment.
How a Tooth Extraction Actually Works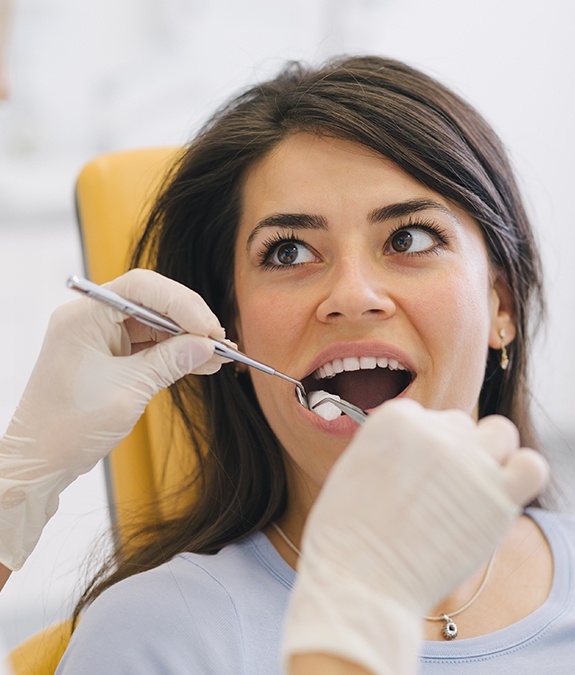 While a tooth extraction is often referred to as "pulling teeth," the truth is that this procedure doesn't involve any actual pulling. Instead, once a patient is numbed, the tooth is rocked back and forth until it slips out on its own. This method is much gentler and more efficient than pulling, plus it causes less trauma to the nearby tissues, leading to an easier and shorter recovery. Typically, a patient's mouth will feel normal within a week or less.
Tooth Extractions FAQs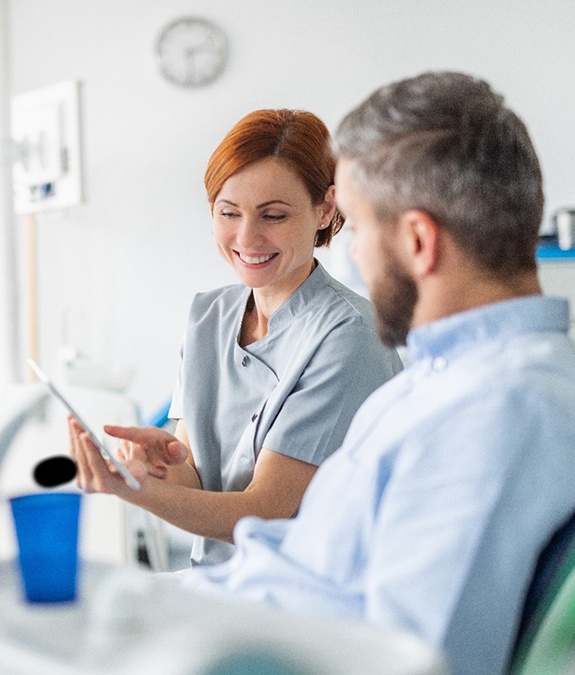 Do you need a tooth extraction but have a few questions before committing to treatment? That's completely normal. After all, the information surrounding how tooth extractions work and what to expect is often little-known. Don't worry – we're here to help! To find out the answers to all of your questions, keep reading or get in touch with our team today.
Does Getting a Tooth Extracted Hurt?
Naturally, one of the first questions patients ask is, "Will it hurt?" The good news is that, thanks to powerful numbing agents, the most you will feel is some slight pressure from your dentist working. Once you begin to regain feeling in your mouth (long after your procedure is complete), some soreness is completely normal. To remain as comfortable as possible, make sure to stick to your post-op instructions, like placing a cold compress against the outside of your cheek and keeping your mouth clean.
Can I Leave the Space Empty After a Tooth Extraction?
If you're getting one of your back teeth extracted, then you may be tempted to leave the space empty. However, this can lead to short-term complications, like difficulty chewing, and long-term consequences, like your teeth drifting out of position. That's why it's best to talk to your dentist about tooth-replacement options during your initial consultation.
What Are My Options for Replacing a Missing Tooth?
The answer to this question really depends on your dental needs. For example, if you are only getting one tooth extracted, then a dental bridge or single dental implant may be best. On the other hand, if you're struggling with extensive tooth loss and getting your last remaining teeth extracted, then full dentures or implant dentures are more ideal. Don't worry – our Mansfield dentist can review the pros and cons of each during your appointment so you can make an informed decision on which one is best for you.
What Should I Do After My Tooth Extraction?
Following your tooth extraction in Mansfield, priority number one is to rest. Exercising, heavy lifting, and any other extensive physical activities are not permitted within the first 24 hours following your procedure. You should keep your post-op instructions close by and do your best to follow them precisely. Keeping clean gauze in place, sticking to soft foods, and taking OTC pain medication are all essential to a smooth recovery. If you have any questions following your procedure, don't hesitate to get in touch.
Can I Smoke After Getting a Tooth Extracted?
Cigars, e-cigarettes, and other tobacco products can delay healing. As a result, you should refrain from smoking for at least five days following your procedure. Ideally, you should avoid smoking for two full weeks for optimal recovery. If you've had difficulty quitting in the past, don't worry. Our team is not here to judge. Instead, we want to set you up for success so that your tooth extraction goes as smoothly as possible.