Root Canal Therapy – Mansfield, TX
Make That Toothache
Finally Stop
Do you have a tooth that just won't stop hurting? If so, then the last thing you probably want to hear is that you likely need root canal therapy, but that's probably the case! This procedure has gotten a bad reputation over the years for being extremely painful, but the truth is that it's actually one of the most effective ways to stop severe toothaches and save teeth that would otherwise have to be extracted. Give us a call today to start getting the relief you need right away with root canal therapy in Mansfield, TX!
Why Choose Broad Park Family Dentistry for Root Canal Therapy?
Same-Day Appointments Available for Patients in Pain
Sedation Dentistry Guarantees a Comfortable Experience
Dentist with 15 Years of Experience
What Are Root Canals Used For?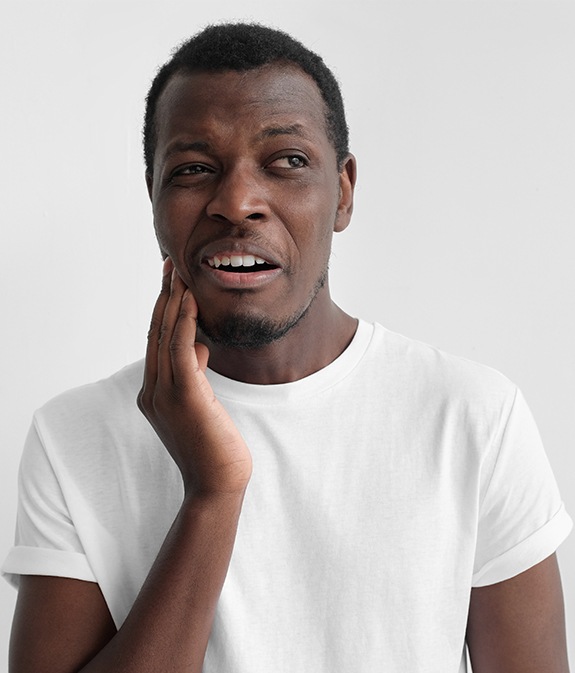 Despite what you may have seen in movies and on TV, root canals are NOT something dentists use to simply torture their patients. Rather, they treat dental infections that have reached the sensitive inner nerve of a tooth called the dental pulp. Bacteria in this area can cause a lot of swelling and pressure to build up within a tooth, which, as you can imagine, isn't the best feeling in the world! Fortunately, root canals can relieve this pressure as well as any associated pain.
How Do Root Canals Work?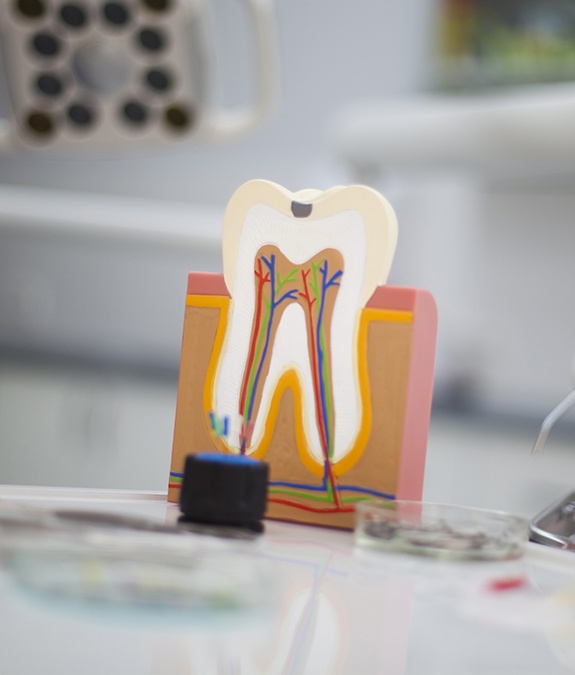 After determining that a patient needs a root canal, Dr. Rudd takes the following steps:
The patient's tooth and the surrounding area are fully numbed.
Then, a small hole is placed in the enamel.
Through this, the infected pulp is removed.
The interior of the tooth is cleaned, sterilized, and filled.
Finally, the tooth is topped with a crown.
Afterward, the treated tooth should be pain-free and look and function normally, and it can be trusted to stay that way for the foreseeable future.
Root Canal FAQs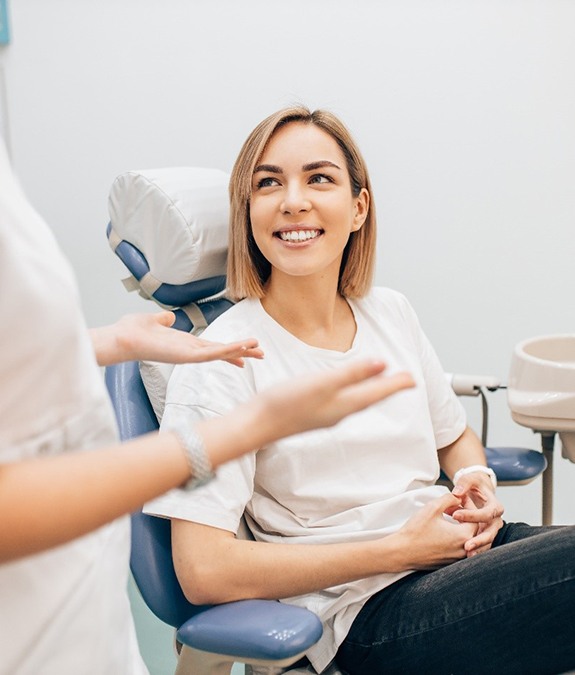 Do you have an upcoming root canal in Mansfield? It's completely normal to have plenty of questions about it. Luckily, our team at Broad Park Family Dentistry is more than happy to answer your questions and make the entire process as easy to understand and successful as possible. We believe that being well-informed and knowing what to expect from the procedure can significantly ease your nerves about it. Below, we've decided to answer some frequently asked questions we receive from patients. If you'd prefer to speak directly with a member of our team, don't hesitate to call and make an appointment!
How Long Does It Take to Recover from a Root Canal?
Most patients can return to their usual activities the day after their root canal. Of course, since everyone is different, the recovery times can vary significantly from person to person. If your job requires physical labor, you should plan to take at least two to three days off of work. Your mouth will feel sore and sensitive for the first few days after your procedure. Luckily, you can manage it by taking pain medication as directed and using cold compresses. While you heal, you should stick to a soft-food diet and chew on the side of your mouth away from the root canal. If your pain worsens, contact our office right away for assistance.
Can I Eat Before a Root Canal?
Are you being sedated for your upcoming root canal in Mansfield? If so, you'll likely be asked to fast for a few hours beforehand. It'll help reduce the risk of nausea caused by the sedative. However, if you're not undergoing sedation for your procedure, it's strongly recommended that you eat a healthy meal at least a couple of hours before your appointment. Since your mouth will be numb afterward, you'll have difficulty eating certain foods.
Do I Need Antibiotics Before or After My Root Canal?
Short answer: no, most patients do not need to take antibiotics before or after their root canal. The only time you'd be prescribed antibiotics is if you have a health condition that increases your risk of developing an infection after a complex dental procedure. At Broad Park Family Dentistry, our team will review your medical history beforehand to determine whether or not you need to be prescribed antibiotics.
What Happens If You Wait Too Long for a Root Canal?
A tooth infection will not heal on its own, but rather get worse without treatment. Because of that, it's incredibly important that you schedule a root canal as soon as you find out you need one. There are some instances where the pain goes away, making patients think they no longer need the procedure. However, that often indicates that the infection is worse than ever. When it destroys the tooth's nerves, it makes them unable to register pain. Additionally, waiting too long to undergo treatment can cause the infection to spread to other parts of the body, where it could cause systemic illness.