May 6, 2022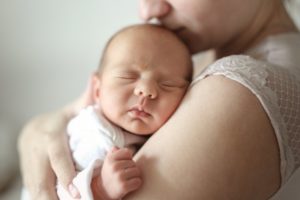 As you try again to nurse your baby, you wonder about whom you should turn to for help with your breastfeeding troubles. Although your mind goes to a lactation consultant or a pediatrician, you may want to consider meeting with your dentist to check if your little one has a tongue tie!
A tongue tie is the term for when a baby has extra thick or restrictive tissue called a frenulum underneath their tongue. In some cases, it can make nursing and other important functions more challenging than they otherwise would be.
But what can you expect if your baby needs treatment for their tongue tie? Here's a breakdown of how the process goes!
Before Tongue-Tie Treatment
How do you know whether your baby has a tongue tie? Many babies with this issue struggle to latch properly when nursing, which is frustrating for both mom and the infant. This often results in sore nipples, fussiness, and even failure to gain weight and thrive. Before you stop breastfeeding, let your dentist take a look to see if the problem could be a tongue tie.
Bottle-fed babies with tongue ties may slip under the radar without the problem becoming obvious until later in their development when they learn to eat solid foods or speak. After all, a restricted tongue may interfere with these essential tasks too. Again, if your child has trouble, bring them in to have the dentist examine them for a tongue tie. If this is the underlying problem, your dentist can address it with treatment.
During Tongue-Tie Treatment
Tongue ties are resolved through a procedure called a frenectomy, in which the frenulum is released or severed. In the past and at some practices still today, this entailed using a scalpel and sutures, which caused considerable pain and bleeding.
However, thanks to laser technology, your dentist can utilize a soft tissue laser to remove this excessive tissue without the need for sutures. Overall, a laser frenectomy takes just a few minutes to complete and is often performed without local anesthesia because of its efficiency and gentleness.
After Tongue-Tie Treatment
One of the best benefits of using a soft tissue laser to perform frenectomies is that the process is less painful and usually involves only a little, if any, bleeding. As a result, if your child is still nursing, you may breastfeed directly following the frenectomy. In fact, some studies suggest that breastmilk contains the nutrients needed to expedite healing, and the act of breastfeeding can act as a calming technique for the baby. Plus, you should notice improvement in their ability to latch almost instantly!
Now that you have a greater understanding of the tongue tie process, you can know that moving forward that treatment is the best course for your little one and have peace of mind with a better idea of what's coming.
About the Practice
At Broad Park Family Dentistry, we have the honor of two dentists on our staff. Dr. Shanna Howze and Dr. Jeremy Rudd come from different backgrounds, but they both find great satisfaction in serving patients of all ages—even those without teeth yet! To perform frenectomies, we have a soft tissue laser, which makes the procedure much more comfortable and efficient. If you think your baby could have a tongue tie, you may schedule an appointment by contacting our Mansfield office at 817-473-6857 or visiting our Contact Us page.
Comments Off

on Before, During, and After: What to Expect from Tongue-Tie Treatment
No Comments
No comments yet.
RSS feed for comments on this post.
Sorry, the comment form is closed at this time.