February 15, 2023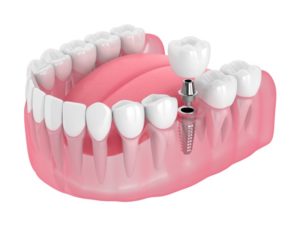 If you have missing teeth, dental implants are an incredibly reliable and long-lasting solution to complete your smile. Most dental professionals consider them the gold standard in tooth-replacement options! Additionally, they are very lifelike and look just like your natural pearly whites. So, are they stronger than your teeth? Read on to learn the answer and what makes them such a great investment in rebuilding your smile.
First Things First: What is a Dental Implant?
Unlike other tooth replacement options like dentures, dental implants replace your teeth from root to crown. By using biocompatible titanium steel posts, your tooth structure is rebuilt by placing the posts into your jawbone. Over time, osseointegration occurs—the implant begins to fuse with your gum and bone tissues. This provides stimulation to your jaw and prevents bone degeneration. A dental crown is placed on the implant, which mimics the appearance and function of your tooth. What an extraordinary tooth loss solution!
So, Are Dental Implants Stronger than Natural Teeth?
In short, yes. While it is always best to keep your natural teeth, if possible, they can wear down over time. With the susceptibility of cavities, and gum disease–as well as everyday wear and tear–your pearly whites can become weakened over time. On the other hand, dental implants are not at risk of any of these issues, so they can be counted on for up to a lifetime with the proper care!
Factors That Make Dental Implants So Durable
As stated above, these restorations do not get affected by as many issues as natural teeth do. There are certain factors that make dental implants such a strong tooth-loss solution, such as:
They will not decay: Dental implants will not get cavities. While you do need to be sure to brush and floss regularly to keep your gums and surrounding teeth healthy, your implant is safe from becoming decayed.
They are almost impossible to crack or break: Titanium steel is one of the hardest metals in the world so your smile is very strong with dental implants. The posts are impossible to break. However, your crown can still be worn down or broken if you grind your teeth, use your teeth as tools, or by general wear and tear.
They build a stronger jaw over time: As stated above, one of the major benefits of an implant is that it replaces your root by blending into your jawbone. Your dental implant provides stimulation as you chew, so your smile becomes stronger over time.
While everything should be done to keep your natural teeth, dental implants are an amazing replacement. They can even make your smile stronger over time. This tooth replacement can give you beautiful and long-lasting pearly whites for many, many years!
About the Practice
Broad Park Dentistry keeps the smiles of Mansfield whole and healthy through the expertise of its two dentists. They provide a full range of dental services using advanced dental technology, including dental implants. The entire implant procedure can be conveniently completed under one roof as they restore any number of your teeth for a lifetime! To schedule a consultation, contact them through their website or call (817) 473-6857.
Comments Off

on Dental Implant vs. Natural Tooth: Is an Implant Stronger?
No Comments
No comments yet.
RSS feed for comments on this post.
Sorry, the comment form is closed at this time.