April 12, 2023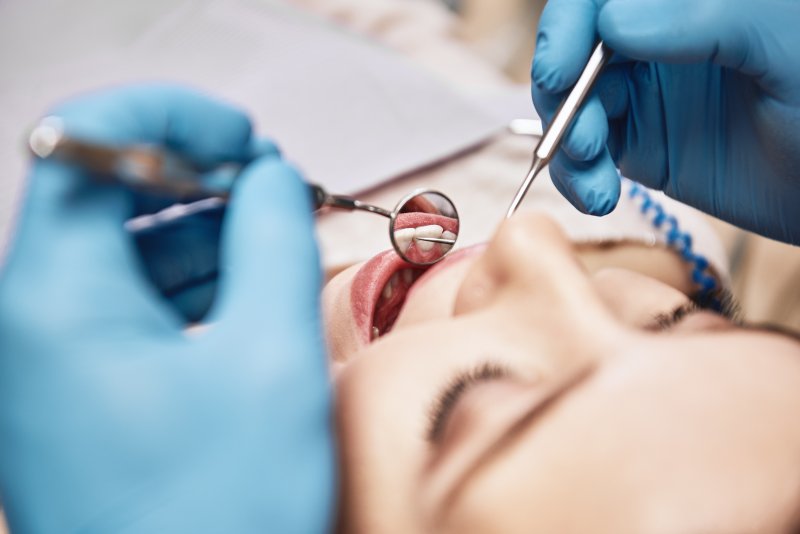 Did you know that dentists are often the first to detect a patient's oral cancer? Early detection maximizes the chances of effective treatment, and all dentists are trained to carry out oral cancer screenings. Mostwill examine your mouth for signs of cancer during routine dental visits. These screenings take minutes and save lives.
You might be asking how a dentist can detect oral cancer in the middle of everything else a typical visit entails. Read on to find out how dentists play their part in the fight against cancer.
What Causes Oral Cancer?
Oral cancer can occur in anyone. However, certain factors increase the risk of developing the condition. Some of these are:
Tobacco usage in any form – cigarettes, cigars, pipes, dip, chew, etc.
Excessive alcohol use.
Frequent sun exposure.
Human papillomavirus (HPV).
Previous diagnosis of oral cancer.
How Does an Oral Cancer Screening Work?
When screening for oral cancer, the dentist will look inside the patient's mouth for sores or red or white patches. The dentist will also probe the tissues inside the mouth for abnormalities like lumps. The exam might also include checking the throat and neck for lumps.
The dentist may rinse the patient's mouth with oral cancer screening dye, which might be absorbed by abnormal cells in the mouth, causing them to appear blue. Another option is for the dentist to shine an oral cancer screening light into the patient's mouth. The light can make abnormal tissue appear white.
What If Signs of Oral Cancer Are Found?
A dentist finding any signs of cancer or precancerous lesions in the mouth might recommend a follow-up visit a few weeks later to check on any abnormalities. Alternatively, a dentist may recommend a biopsy procedure to remove a cell sample for lab testing. The dentist might do the biopsy or give the patient a referral to a specialist.
Oral health professionals provide many crucial services to the health of their patients, not the least of which is cancer screenings. Staying aware of and avoiding the associated risk factors is the best way to prevent cancer, but the sooner a patient knows about having it, the better the outlook.
About the Practice
Broad Park Family Dentistry is dedicated to preserving the oral health of the community of Mansfield, TX. Led by Drs. Jeremy Rudd, DMD, and Shanna Howze, DDS, the team tends to patients' health with respect and kindness and builds relationships that last for years to come. Services include routine examinations and cleanings, children's dentistry, cosmetic dentistry, and emergency dental services. For more information, contact the office online or dial (817) 473-6857.
Comments Off

on How Dentists Save Lives by Screening for Oral Cancer
No Comments
No comments yet.
RSS feed for comments on this post.
Sorry, the comment form is closed at this time.