August 11, 2023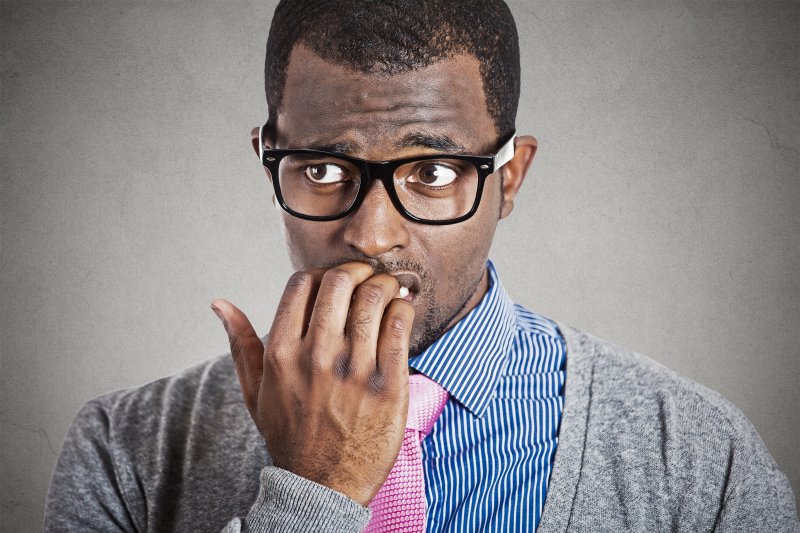 When most people think of going to the dentist, they may think about the best time to schedule an appointment, how much it might cost, or how much they enjoyed going the last time. However, there are many others who experience anxiety and real fear at the topic.
But why is that? How do people develop a fear of the dentist? Continue reading to find out the basis of these fears, and how sedation dentistry might help if you experience anxiety at the dentist.
What Is Dental Anxiety?
Dental anxiety is a term that has been used to describe a situation in which a person experiences moderate to extreme anxiety or fear when thinking about the dentist or anything being done to their teeth.
Dental anxiety is often accompanied by "dental avoidance." As the name suggests, this is the psychological need to avoid going to the dentist to alleviate the anxiety.
There are many reasons why you might avoid the dentist or be stressed by thinking about it. Past experiences, the stories of other people, financial sensitivities, and a feeling of loss of control can all contribute to the disorder.
What Are the Dangers of Dental Anxiety?
Avoiding the dentist comes with a host of problems. Every small dental flaw will eventually turn into a serious problem if left untreated. Small cavities become rotted teeth, gingivitis becomes periodontitis, and impacted wisdom teeth become sources of extreme pain.
By avoiding the dentist, you sabotage your own oral health and mental well-being. According to a study of dental anxiety performed by the Hong Kong University School of Dentistry, 73 percent of the people who participated felt their poor oral health lowered their quality of life.
What Are Some Ways to Lessen Dental Anxiety?
If you're one of the people mentioned above who have anxiety when they think of the dentist, there are a few methods you can try to weaken its grip.
Guided Imagery – One technique to help ease dental anxiety is guided imagery. This involves using your imagination to create a calming mental scenario. Before your dental appointment, take a moment to close your eyes and envision yourself in a peaceful place. This should calm your nerves.
Exposure Therapy – Exposure therapy is a gradual process that involves putting yourself into dental-related situations. Visiting the dental office without any treatment, scheduling a checkup or cleaning, and then working your way up to a more complex treatment can help dampen your fear.
Sedation Dentistry – If you have severe dental anxiety, sedation dentistry is one of the safest treatments available. It can truly be a game-changer. Your dentist can recommend various sedation methods like nitrous oxide sedation or oral conscious sedation to help keep you relaxed and calm during your visit.
By using these strategies, you can take steps to overcome dental anxiety and ensure that your oral health remains intact. Reducing anxiety is the key to building consistent dental appointments and avoiding significant dental issues down the road.
If you experience dental anxiety, don't hesitate to discuss your concerns with your dentist, as they can provide personalized recommendations to make your dental visits more comfortable and stress-free.
About the Practice
At Broad Park Family Dentistry, Dr. Jeremy Rudd and Dr. Shanna Howze pride themselves on creating a different kind of dental office where the needs of the patients come first. With their years of combined experience and advanced dental technology, they can provide many kinds of dental treatments under one roof. To schedule an appointment, call (817) 473-6857 or visit the website to learn more about their sedation dentistry services.
Comments Off

on Where Do Dental Phobias Come From?
No Comments
No comments yet.
RSS feed for comments on this post.
Sorry, the comment form is closed at this time.